Quality insulation, superior energy efficiency and thermal comfort and long-term performance, that's the ecoMaster way.
Determined to find the the highest quality insulation solution available, thermal comfort expert, Maurice Beinat inspected thousands of Australian homes as part of his role as an energy assessor. What he discovered will change your mind about insulation forever.
---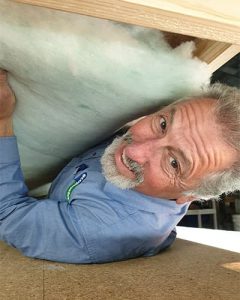 Maurice's search for the best quality retrofit products, including insulation, began when he dedicated himself to making his own home as efficient as possible. That project opened up a world of testing, reviewing and, in many cases, redesigning what the market had to offer. Maurice was shocked to find that while most homes had nothing protecting them from below at all, the homes that did were hardly doing any better. He has seen the best and the worst: fibreglass batts, foam boards, reflective foils, you name it, he's seen it.
---
He quickly learned that there is much to consider when looking for the best quality underfloor insulation.
The R-value, that is, resistance to heat – is it going to deliver the best possible insulation performance?
Is it a durable material that will hold its loft (its thickness) for the lifetime of a home?
Is it safe, non-allergenic and low-irritant?
How does the insulation react to water, rodents and in the event of a fire?
How long will the securing method hold the insulation between the joists?
A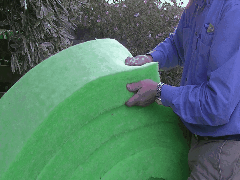 s an environmental enthusiast, Maurice was disappointed by the resources wasted on poor quality insulation attempts and determined to find an eco-friendly alternative that was going be durable and, most importantly, keep ecoMaster clients comfortable and their energy bills down! After extensive testing, Maurice discovered the benefits of polyester and confirmed it to be the highest quality insulation available. So much so that he's been recommending it with confidence for over two decades.
"Using high quality insulation and a securing method that will hold that material firmly against the floorboards is key. Poor quality insulation solutions can't be effective no matter how hard you try. What you use and how you install it both count in equal measures. That's why I'll only ever use polyester." – Maurice Beinat
Product

Availability

VIC

VIC

NSW, VIC, ACT, SA, WA, QLD

NSW, VIC, ACT, SA, WA, QLD

R Value

R2.5 

R2.5 

R2.5 

R2.5 

Coverage per pack

7.2m2

15.6m2

13.4m2

8.6m2

Rolls Per Pack

2
3
3
2

Length per roll

8 metres

11.6 metres

10 metres

10 metres

Width

450mm

450mm

450mm

430mm

Loft

120mm

120mm

(reloft not guaranteed)

140mm

140mm

Vacuum Packed

No

Yes

No

No

Weight

9kg

20kg

24kg

15kg

Pack Dimensions

900mm x 620mm

1400mm x 700mm

1300mm x 700mm

900mm x 680mm

Material

100% polyester

100% polyester

100% polyester

100% polyester

Minimum Order Quantity

1
1
1
11

 







WHAT DO THESE SPECIFICATIONS MEAN FOR YOU AND YOUR HOME?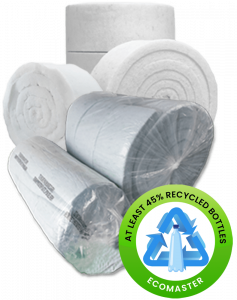 • Rated at R2.5 – it is 25% better than R2.0 you get a warmer floor in winter and keep your air conditioning longer in summer
• 450mm wide – allows you a bit more "wiggle room" when installing.  Your joists are 430mm wide, so the extra 20mm will make sure you can staple it easily into place
• Long Polyester Rolls –  are much easier to handle under a floor than hundreds of batts.  This means a much faster install time with fewer joins
• 120mm loft – 140mm loft – this insulation will fill the space from floor board to the bottom of the joist – no chance for rodents to make their bed under your floor – and it will keep you even more cosy
⛅ SUPERIOR THERMAL COMFORT
Polyester insulation is thick and robust, holding its loft (thickness) for the lifetime of your home. Not itchy, non toxic, non allergenic. Totally people friendly!
★ 50-YEAR GUARANTEE
Polyester underfloor insulation is the most durable insulation available. It doesn't appeal to rodents, is unaffected by moisture and is the only material that can be secured with staples. This material will stand the test of time.
♻ SAFE AND ECO-FRIENDLY
Our underfloor insulation is a 45% recycled, heat-bonded polyester, which means it doesn't have loose fibres that can be inhaled or irritate the skin. It's so safe that our bedding is made of the same material!