If DIY is not your thing, then an ecoMaster installation team can do it all for you. An ecoMaster "done for you" installation takes all of the worry out.  You can rest assured that our installation teams are well trained and dedicated to doing the best possible job for you.
HOW WE WORK
Our crews work in teams of three.  That means that two installers can be fitting the insulation while the third keeps the installation process moving along smoothly.  This ensures a great quality outcome as well as ensuring your job is completed safely. ecoMaster crews are always well equipped, so we can keep an installation running on time regardless of any setbacks that might pop up.
---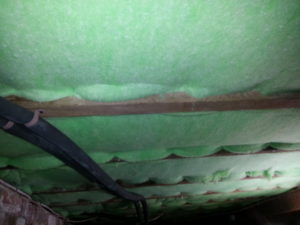 We take quality seriously; and it starts by recruiting installers who are motivated by working for an award winning environmentally sustainable company.  Every team member is well trained to the ecoMaster quality standard.
Despite working under a (sometimes) dirty floor, we ensure your insulation is installed cleanly.  The crews carry tarps to roll out under the floor.  This keeps the insulation clean as it is dragged along.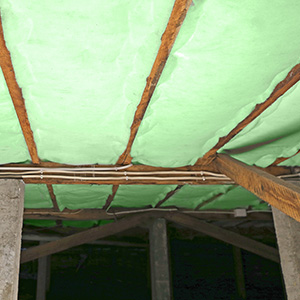 Its the little things that make a difference.  Special attention is paid where there are wires saddled to the side of the joists.  In these cases the insulation is pulled aside a little and it is stapled through into the floor.  That way there is no risk of stapling the wire and an electrician can still access the wire.  Importantly, the insulation springs back over the wire providing the full thermal benefit.
If your underfloor has reasonable access then you can be assured of  a thorough and complete quality job.  Our crews are renowned for their dedication to insulating as much as possible even when the available space is very small.

SAFETY IS A MATTER WE TAKE VERY SERIOUSLY
We will not knowingly put our installers at risk.  Here are a few things to consider: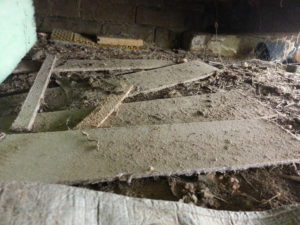 If you are planning to have a pest treatment undertaken then please let our installers do their work first.  We do not want them to be crawling around on freshly laid chemicals.
If you know or suspect that there is asbestos under your floor (as pictured) then please let us know.  This is the most common risk under a floor. Removing the sheeting is not sufficient as the asbestos fibres may be in the soil and can therefore not be effectively removed.  If in doubt about whether it is asbestos then it's a simple and inexpensive process to get it tested.  Contact us for more details on asbestos testing.
WHERE DO WE PROVIDE INSTALLATION SERVICES?
Currently, we provide a custom installation service in Melbourne, Geelong, Ballarat and Bendigo.  Homes in other locations can also be serviced by special arrangement.
To arrange a custom installation of underfloor insulation, complete the form with your details and we will provide a estimated based on Google Earth measurements and Google Street View.   If you wish to proceed, based on that estimate, we will arrange for an assessor to visit your home to provide you with a fixed price quote.   You can then book in an ecoMaster custom installation.